Welcome to
The Punjab Meat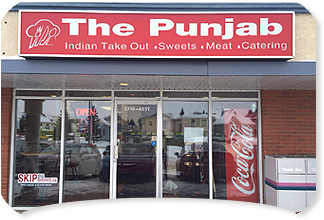 Welcome to Official Website of The Punjab Meat shop (Indian Take Out - Sweets - Meat - Catering Services) proudly serving Veg and Non-Veg Indian Taste in Edmonton, Canada.
The exotic flavors of Punjabi cuisine have been tantalizing Indian food from last 10 years. The Punjab Meat Shop is one of the upgrowing food chain in Canada specializing in Indian - Punjabi food. We have been in food business for past several years and has served millions of food lovers in these years that can couch for its authenticity and great taste.
Read More
Testimonials

This is one of the BEST meals I have ordered through just eat.ca and will certainly order again. Portions are large and everything ordered very tasty. Samosas excellent. Breads same. Just try it. You will LOVE IT. "Bhupinder Singh, Indian"

Home Delivery Available For Orders Above $50 Veg. and Non-Veg Catering.
Location
2710-48 Street,
Edmonton, AB
Postal Code T6L6B8
CANADA.

Mobile :

780 462 1881

Mobile :

587 784 8786